These days, the goal of nearly every business owner is to rank higher on Google. Given that 75% of internet users never scroll past the first page of search results, you're probably missing out on a lot of potential customers if you haven't tackled SEO yet. Thankfully, optimizing your business' website for SEO doesn't have to be difficult – really! These easy local SEO tips for small businesses can be done by anyone with basic marketing knowledge.
If you're just getting started, you may want to check out our post on using local directories to boost SEO. Once you've tackled that step, you're ready to take things a bit further by using content to boost your SEO. The first step? Figuring out what keywords are important to your business.
The easiest way to get keywords?
Let's be honest: "keyword research" sounds like a real pain in the rear, which is probably why a lot of people avoid doing it. However, basic keyword research becomes much easier when you change the way you think about it. The easiest way to find SEO keywords for your small business is to ask yourself the following question:
How would someone find a business like yours online?
More specifically, what search terms would a potential customer likely use to find your business? If you're having a hard time with this one, ask your friends or trusted customers for help - SeedKeywords is a great free tool that allows you to do just that. Also, think about the type of products or services you offer – those are keywords too!
It's important to note that this is the most basic method of getting keywords. If you're really hoping to rank high on search, you'll want to learn how to do keyword research or hire an SEO expert to do it for you.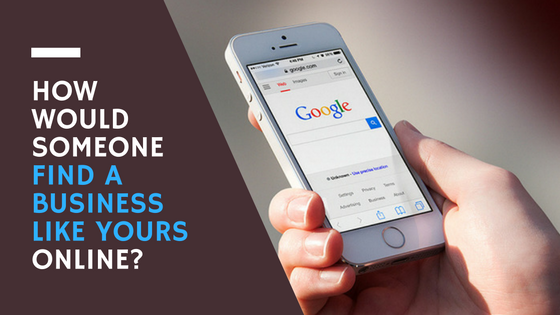 How to make it easier for people to find your website
When creating their websites, many local businesses forget to add important details, making it impossible for their website to be found via sites like Google, Bing or Yahoo. When adding content to your website, be sure to incorporate keywords. The two things that a lot of small businesses forget to add? Location and services – both of which will make it easier for their website to be found!
Adding location details to boost SEO
Your business address and service area should be listed on every page. If possible, include content that references some of the most popular towns, regions or neighborhoods you serve as well. This is also a good opportunity to add in a few search terms. For example, on one page you may want to state, "reliable emergency plumber in the Chicago area, including the North Side of Chicago, South Side of Chicago, and the Near West suburbs".
Include detailed descriptions of products and services
Your website should include a page with detailed descriptions of the services your business offers – even those that may seem obvious. These keywords will make it easier for your website to be found by potential customers. For example, if you were a plumber, you may want to use descriptive words like "emergency plumber service", "fix a leaky pipe", or "licensed plumber". Again, put yourself in your customer's shoes and stick to using layman's terms. You can – and should – these keywords throughout your website.

Create a blog
Writing useful industry-related content is a great way to help your website rank better. For example, a plumber would want to write blog posts on the types of questions people might search before ultimately deciding to hire a plumber, ex: "how to fix a clogged toilet?" or "what to do when your drain keeps backing up". This is a great way to promote your area of expertise while adding content that will help your website rank among people who are searching for businesses like yours, i.e. "…Ultimately, you may wish to find a reliable plumber in the Phoenix area who can repair a clogged toilet". Of course, that little "call to action" is the perfect opportunity to promote your services!
How social media can help build your local SEO
For better or for worse, social media has become a part of daily life for many Americans, making it more important than ever for you to maintain an online presence. Not only do such sites help build trust in your business, but having a presence on social media can also help boost your local SEO.
These easy local SEO tips for small businesses should give you a solid start. If you have the time and really want to dig deeper, Moz has a great Beginner's Guide to SEO that covers all of the basics across ten chapters. Of course, if you're really looking to dominate local SEO, you may wish to hire an expert that can help you maximize your results.