Given the steady increase in green initiatives across the country, many general contractors, builders, business owners and even remodelers are wondering: is green certification worth it? And if so, which green certification program is best?
Green Building: A Passing Fad?
To some, the trend of green building may seem a little like overpriced juice: a fleeting fad driven by young urban professionals who will probably move onto the next trend in a year or two. While green certifications like LEED have become a trendy marketing tool, they actually have some measurable benefits:
- Data shows that owners of green homes see a 25% decrease in annual energy costs.
– Research compiled by the U.S. Green Building Council has shown a 13.9% reduction in operating costs for green buildings.
– In addition to reduction in operating costs, green buildings saw a 10.9% increase in property value.
So, is green certification worth it for contractors and remodelers? According to the USGBC, LEED alone has seen over 16 years of steady growth. Likewise, World Green Building Trends' 2016 SmartMarket Report shows that the demand for green buildings has doubled every three years, and shows no sign of slowing down. As For Construction Pros points out, green certification will more than likely lead to greater opportunity for contractors, builders and remodelers, especially as more homeowners begin to seek out green certified builders.
Thinking of becoming green certified? We've compiled details on the most popular green certification programs to help you choose one that best fits your industry, interests and budget.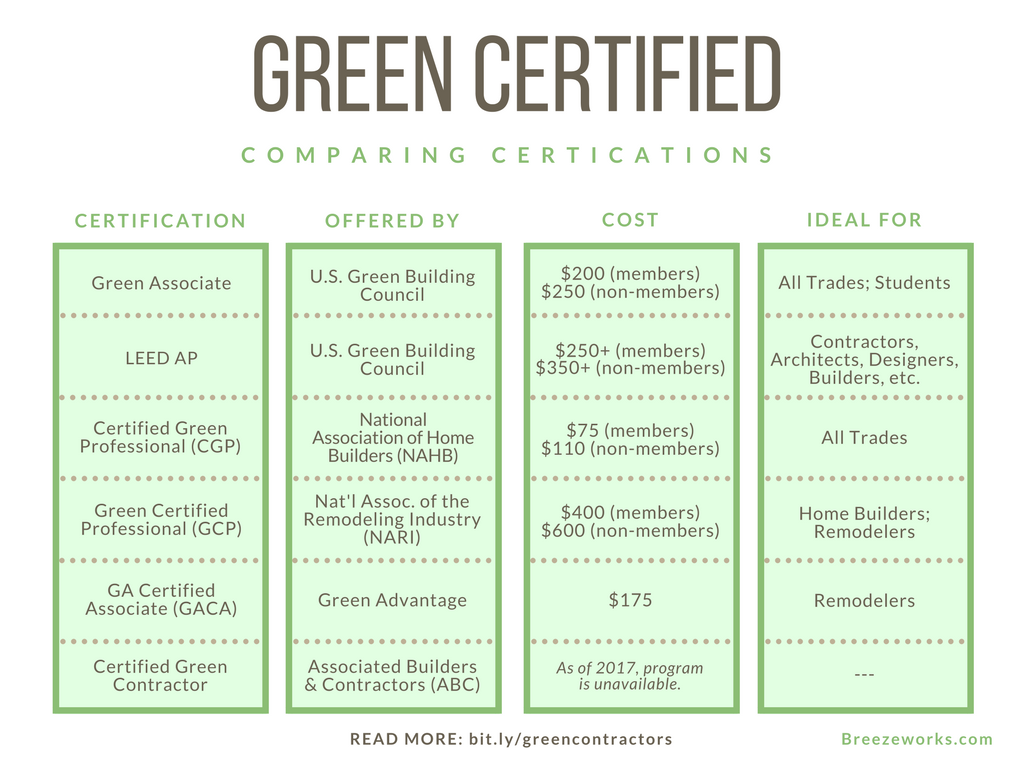 Green Certification Programs: A Comparison
Administered By:  U.S. Green Building Council (USGBC)
Certifications:  LEED Green Associate
Who It's For:  All building-related trades.
Focus:  The basics of green building (see "LEED AP" for advanced certification courses).
Cost:  $100 for students, $200 for members, $250 for non-members
Administered By:  U.S. Green Building Council (USGBC)
Certification Levels:  Five AP-level certifications based on area of expertise: BD+C, O+M, ID+C, ND and HOMES.
Who It's For:  Contractors, Architects, Interior Designers, Home Builders, etc.
Focus:  AP-level courses expand upon LEED Green Associate courses, delving into industry-specific topics.
Cost:  Specialty-Only Exam: $250 (members), $350 (non-members); Full Exam: $400 (members), $550 (non-members)
Administered By:  National Association of Home Builders (NAHB)
Certifications Available:  CGP, Master CGP
Who It's For:  Home Builders, Remodelers
Focus:  According to NAHB, CGP coursework is closely aligned with the ICC 700 National Green Building Standard, focusing heavily on energy, water and resource efficiency, indoor environmental quality, lot and site development and homeowner education.
Cost:  $75 for NAHB members; $110 for non-members
Administered By:  National Association of the Remodeling Industry (NARI)
Certification Available: GCP
Who It's For:  Remodelers
Focus:  The GCP program focuses on topics relevant to green remodeling, including building science, indoor air quality, renewable energy, deconstruction and energy conservation.
Cost:  $400 for NARI members; $600 for non-members
Administered By:  Green Advantage
Certifications Available:  GACA (for workers), GACP (for supervisors)
Who It's For:  Contractors, Architects, Engineers and Supervisors
Focus:  Understanding the application of green building methods, materials, and green building best practices including building performance, team performance and costs.
Cost:  $175
Administered By:  Associated Builders and Contractors (ABC)
Certifications Available:  N/A
Notes:  As of 2017, it appears that the ABC is no longer offering the Certified Green Contractor program to members; all associated information has been removed from their website. The representative we spoke to at the Chicago chapter of ABC was unable to provide any further details.
As the green building trend grows, investing in green certification can help you reach new customers and dramatically grow your business. Interested in more ways to grow your business this year? Check out our post on intelligent technology and how it's impacting (and benefiting!) small businesses in your industry.