Once upon a time, being first in the phonebook was a huge boon for plumbing contractors. However, the internet has changed the game, and the AAA Plumbing companies of the world have had to adapt along with it. Nowadays, 85% of consumers turn to online review sites like Yelp, Google Places and Angie's List when they need to find a plumber and while such online review sites can bring visibility to your business and reward your hard work and customer service efforts, they also have their downsides.
In this business, it's not uncommon to occasionally have a customer that you just can't make happy – after all, nobody likes having to spend money on unexpected home repairs. While their displeasure may not be a reflection of the service you offered, it's all-too-easy for disgruntled customers to take it out on your business and tarnish your hard-earned reputation by leaving an unwarranted negative review.
Since online review sites are such a big part of business for many plumbing contractors, we decided to do a little bit of research to find answers to the following questions:
- What causes people to leave negative online reviews for plumbers?
– How do negative Yelp reviews impact small businesses?
– What should plumbers do differently when managing Yelp reviews?
To find the answers to these questions, we analyzed hundreds of Yelp reviews for plumbers across the United States, and many of our findings were quite surprising. Keep reading to explore the infographic, or click here to access the free whitepaper for the full Yelp study featuring in-depth insights all home repair verticals analyzed – including HVAC, Electricians and General Contractors – and actionable tips on how your business can increase your visibility on Yelp, get better at managing Yelp reviews and harness the power of online review sites to your advantage.
Scheduling problems are the #1 cause of lost business
Scheduling problems are the #1 cause of lost business for plumbers, with 78% of scheduling problems resulting in lost business. Unfortunately, independent plumbing contractors and small businesses are most affected by scheduling problems. Unlike large businesses, they typically have less personnel resources to help with scheduling and customer service, lack of scheduling technology, and have an overall tighter schedule.
The good news? When it comes to being on time, plumbers beat all other trades. Only 18% of plumbing customers complained of scheduling problems compared to the 26.6% average across all trades. Unfortunately, although plumbing contractors receive a lower-than-average amount of scheduling complaints, it's still the #1 cause of lost business.
(Continued below infographic)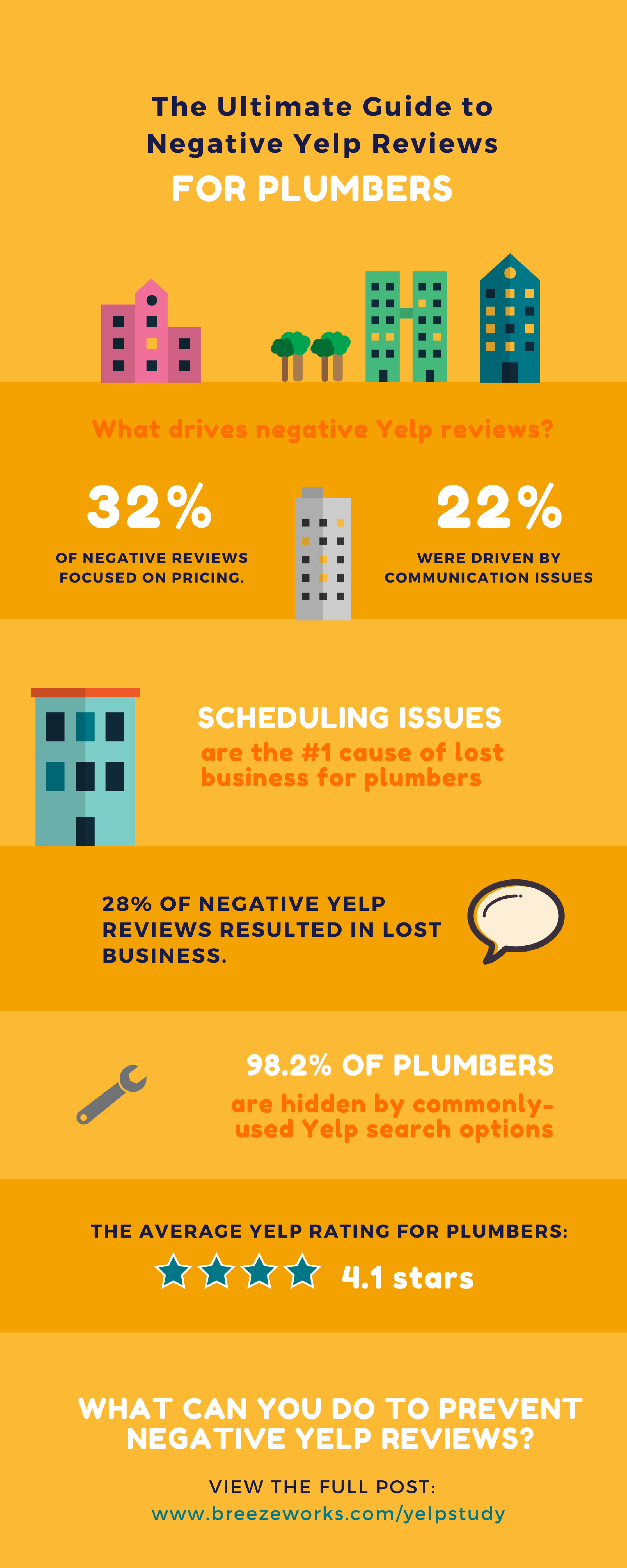 Fact: 98.2% of plumbing businesses are hidden by Yelp search options
Think your business is visible on Yelp? Think again! 98.2% of plumbing businesses are hidden from search results anytime a Yelp user sorts results by "Highest Rated" or "Most Reviewed". These frequently-used search options display the top 40 highest-rated plumbers in any given category, or those that have received the highest number of reviews by Yelp users, obscuring the remainder of businesses from results.
For plumbing contractors in large cities, these search options – which are commonly-used by the majority of Yelpers – can make it incredibly difficult to be discovered by potential customers. For example, in the Greater Los Angeles area, only 0.5% of plumbing contractors are visible!
Plumbers receive more price complaints than any other industry
Negative Yelp reviews show that a whopping 32% of plumbing customers felt they had flushed their money down the toilet – pun intended. A hefty 22% of complaints were spurred by customer service or interpersonal issues, either with the plumbing contractor or with another company employee, while a mere 18% of Yelp reviews were driven by issues with the quality of work. Plumbers also received more complaints focused on billing, payment issues and problems with written estimates compared to any other trade. Plumbers: it's time to improve your invoicing system!
Plumbers lost less business than any other trade
While 28% of complaints resulted in lost business for plumbers, this number hovers closer to 50% for HVAC contractors, electricians, and general contractors, with 43.5% of complaints resulting in lost business across the board.
Average Yelp Rating for Plumbers: 4.1 Stars
While Yelp star ratings were fairly consistent across all trades, plumbers did come in slightly lower at 4.1 stars. By comparison, Electricians averaged 4.4 stars while HVAC and General Contractors averaged 4.3 stars.
What can you do to increase your star rating on Yelp?
There are a few simple change you can make to increase your star rating on Yelp, boost your visibility, and help prevent potential problems before they turn into negative online reviews. We've compiled actionable tips and additional insights in our free whitepaper, The Ultimate Guide to Managing Yelp Reviews. Click here to access the complete (FREE!) guide!
Tip: Guide will be sent via email. If you don't receive it within a few minutes, be sure to check your spam folder!