Recently, we conducted in-depth research to see how tradesmen are impacted by negative online reviews. We analyzed hundreds of Yelp reviews for HVAC, Plumbers, Electricians and General Contractors across the United States, and many of our findings were surprising.
So, how is your industry affected? Explore the following infographic, and keep reading to see what drives bad online reviews for electricians.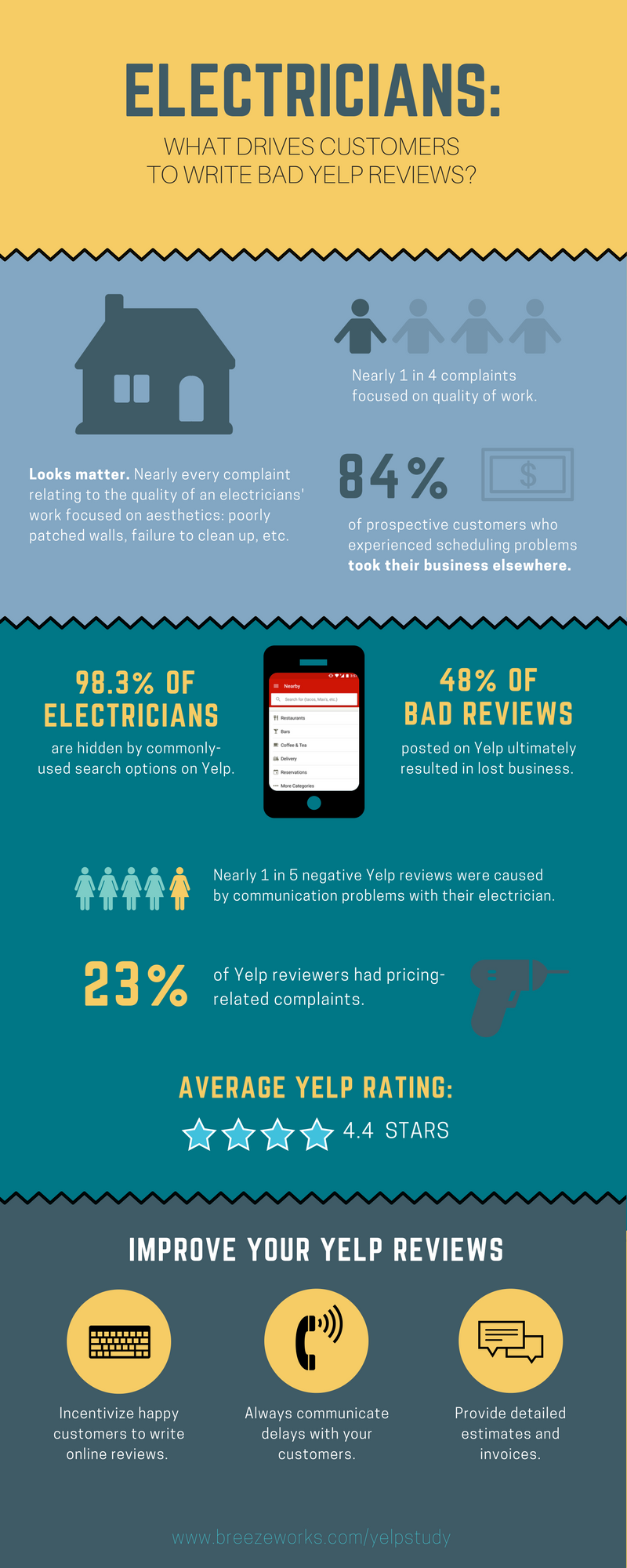 Scheduling problems are the #1 cause lost business for electricians
Not only do scheduling problems account for 1 in 3 negative reviews, but they also happen to be the #1 cause of lost business, with 83% of potential customers ultimately hiring the competition.
Unfortunately, solopreneurs and small businesses lost the most business due to scheduling problems. Unlike large operations, they typically lack the additional personnel needed to efficiently manage scheduling conflicts. Scheduling apps for small businesses can help mitigate such problems.
98.3% of electricians are hidden from Yelp search results
A whopping 98.3% of electricians' businesses are hidden from Yelp results sorted by "Highest Rated" or "Most Reviewed". These commonly-used search options can make it incredibly difficult for electricians in large cities to be discovered by potential customers. For example, in LA, only .08% of electricians appear in such Yelp results.
23% of complaints focused on pricing
Confusion over job estimates are a huge cause of lost business for electricians, with 67.7% of these complaints resulting in a potential customer choosing a competitor. Another 8% of complaints focus specifically on issues relating to written estimates, invoices, billing problems and payment issues. Time to improve your invoices and estimates, electricians!
Complaints regarding work quality are common, but…
Electricians received the 2nd highest number of complaints regarding quality of work. However, most of these unhappy customers complained of poorly installed fixtures, shoddy patching, etc. In order to combat such complaints, be sure to emphasize the importance of aesthetics to your team.
Electricians have the highest average rating
The good news: Electricians have the highest overall Yelp rating compared to any other trade, with an average Yelp rating of 4.4 Stars across all cities surveyed. Nicely done!
What can you do to increase your star rating on Yelp?
There are a few simple change you can make to increase your star rating on Yelp, boost your visibility, and help prevent negative online reviews. We've compiled actionable tips and additional insights in our free whitepaper, The Ultimate Guide to Online Reviews. Click here to access the complete (FREE!) guide!
Tip: Guide will be sent via email. If you don't receive it within a few minutes, be sure to check your spam folder!